"FOR DETAILS OF SELLING DUMMY DETECTIVES SERIES AND MORE.
GO TO THE "CONTEST" AND READ MORE IN DETAIL..."
*********************************
(PLEASE CHECK OUT THE BLOG...WRITE YOUR COMMENTS...)
"Dummy Detectives: Kiss Of The Spider Lady"
"WELCOME TO MY DUMMY DETECTIVES WEBSITE"
"Please check out a very important message on the "Contest" page...THANK YOU"
*************************************************************************
I've written a book titled: "F.A.B. Connection-Fighters Against Bullying" Our children are being bullied in our schools and other places, even cyber bullying. Please click on this link to my gofundme page to donate to help save our children. Thank you...
https://www.gofundme.com/fighters-against-bullying God bless You... Author -- Walter "Chris" Taylor
******************************************
"ABOUT THE AUTHOR"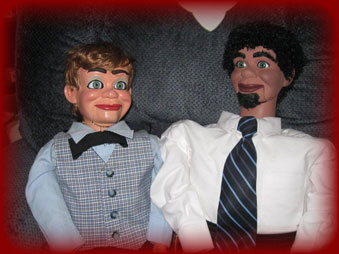 A unique story of Chris, a professional ventriloquist in New York State Prison, and his dummy, "Curtis Fly Johnson."
This history is a real true story. You have the Birdman of Alcatraz, a true story, and now the Puppet Master of New York State Prisons, another true story. So please read on and only time will tell if you'll become a Dummy Detectives Fan.
Also, by all means write your comments on our Blog, as to what you've already read. We respect your honesty, and your advice can only help us get better. Thank you...
**************************************************
Chris was born in Kentucky, and at the age of 5 years old he witnessed the murder of his father. It was an event that young Chris' mind couldn't handle. On that dramatic night young Chris' mind became two, and Curtis, his dummy was born.
Over the years Chris and Curtis grew up depending on one another. Chris was the charming, creative, intelligent human filled with life, while Curtis the dummy, his second personality, was a dark force who protected his partner at all cost. It was years later in 1979, Curtis recklessness caused someone their death. A death that sent Chris at the age of 20, to prison with a 30-to-Life sentence. But it didn't end there. Curtis, his dummy was sentenced right along with him. Chris became the first inmate in New York State to serve time with his dummy in some of the worst Max-A prisons.
Life for these two new-comers was anything but pleasant. The prison world with it deadly inmates, and Correctional Officers weren't used to having an inmate walking and talking with his dummy among them. Their first few years were the hardest for them, and after lots of fighting and cuttings, it's safe to say that the prison hospital staff became their best friends. Yet, they never gave up and soon became two of the most feared and respected inmates in the prison system.
Chris soon became known as "Chris: The Puppet Master," and Curtis was known as the crazy dummy, but the word dummy was never used in their faces, unless they wanted trouble. After serving 40 years, Chris finally out grew his lifetime partner and friend. Years of many therapeutic programs had taught Chris how to take full responsibility for his own actions. Chris no longer needed Curtis to lean on as a crutch. After years of working with other young and confused men with such programs as; 10 years as an "Alternative to Violence Facilitator," 8 years as a "Aggression Replacement Facilitator," and 5 years as a "Youth Awareness Facilitator," which is a program where young troubled kids come inside the prison and are counseled by chosen inmates to help them mend their ways. Chris had also taken 6 years of "Parenting Education," and 6 years as a "Network Facilitator," plus 3 years as an "Exodus" member. It's safe to say, that through the years Chris had become a part of every positive program that the prison system offered.
Chris became a leader and was respected by many who knew him. He had changed his entire lifestyle towards helping others. He has even written childrens books, but his first series of books were his "Dummy Detectives Series."
His wife of 34 years is called, "The Dutchess" by many inmates, has also written a book about their life together called, "The Devil's Playground," by Dutchess Taylor. She shares in great detail her life story of being married to a wild, crazy man with a partner, who was a real dummy. This book tells many dirty little secrets that many inmates don't want told, such as the con-games and sex acts that is used in the prison visiting room setting, and how drugs, lies, and deceit can destroy a persons life. All of it is shared in a 400 page book written by both, Chris and Dutchess called, "the Devil's Playground."
As to what happened to Curtis his dummy, well he was finally paroled and was sent home after serving 12 years with his partner Chris. But, not before writing the 10th book "The Dummy Detectives" series.
On this website you can view photos of Curtis and the rest of my dummies, as well. Only one book is published, "Dummy Detectives: Kiss of the Spider Lady."
In conclusion, should my story spark an interest in someone then by all means share your thoughts with me, and I'll do an interview with you. Plus, if anyone would like to do a study paper about prison life, then I welcome you as well. I think 40 years make me qualified in more ways than one.
But, you should also checkout "The Devil's Playground," by Dutchess Taylor. It's filled with lots of secrets. Also at this website you will read more about Chris' latest and newest book, "Women Of Faith: God's Word." http://www.chrisdutchess.com
http://outskirtspress.com/TheDevilsPlayground
Please go to... http://facebook.com/chriswalter.taylor and become my friend...
Please continue to view this website: you will learn a great deal about me, "Chris."
***************************************************************************************
Those in other Countries reading this website...thank you. I'd like to know what you think of this website...please go to my blog and leave a comment...
Number of Visitors