Dummy Detectives: Kiss of the Spider Lady
taypearl@verizon.net
HUMOR, MYSTREY, AND MAYHEM...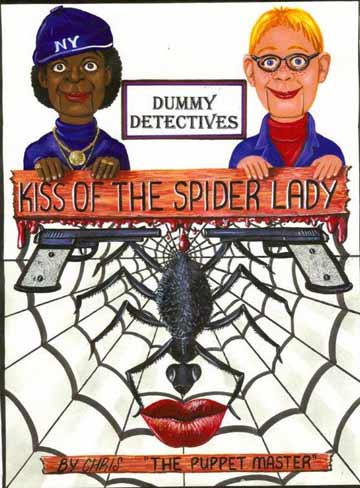 I have many books in stock ready to be sold and shipped.
Please email me or send your check or money order of $10.00 to:
Dutchess Taylor...283 Main St-#1...Hudson Falls,
New York...12839
All packaging, shipping and handling free of charge to you...
***************************************
Written by an inmate who has served 40 years for the death of a White person. Still under these prison conditions he made his life "Matter" by writing 18 books, educating the youth, and keeping strong family and community ties. Plus 34 years with his loving wife, "The Dutchess." Please check out www.chrisdutchess.com ...Black Lives Matter, even in prison...
*********************
BLACK LIVES MATTER, AND THAT'S A FACT
Trayvon, Michael, Little Timmy too, Eric, and Sean Bell, just to name a few...Were young Black men killed by hatred and the Policemen in blue...
BLACK LIVES MATTER, AND THT'S A FACT
Just ask the families and friends of a loved one who died and never came back...Just ask the grieving parents of a child who was killed by a senseless act...Just ask them why, for they neither know or understand why their child will never grow up to become a loving young man...
BLACK LIVES MATTER, AND THAT'S A FACT
Ask those who brought their children into this world with such high hopes and joy...While teaching them the values of love, peace, honor, and a whole lot more...But the hatred of other's teaches them in a cruel and different way...That they are nothing, and better off laying in a unmarked grave...
BLACKLIVES MATTER, AND THAT'S A FACT
We don't have to die in this crazy racist game...We don't have to go to prison to prove that society was right...We don't have to live in the shadow where there's no daylight...
BLACK LIVES MATTER, AND THAT'S A FACT
We are who we are, a proud Black Race...We are people of many colors...people with many faiths...people who love...people who cry...people who laugh if only for a little while...people who pray with God's loving grace...and people who are a part of this world's human race...
BLACK LIVES MATTER, AND THAT'S A FACT
We are who we are, and you can't take that away...No matter how many of us you kill each and every day...For we simply refuse to be among those who choose to lose...For we are who we are, and that's what's so upsetting to you...
BLACK LIVES MATTER, AND THAT'S A FACT
For we'll never use words like I'll try, I'll see, while bowing down to you on our bended knee...NO! Because we wear the Crown of Kings, the Belts of Champions, the Rings of Hannibal, and carry the Spear of Success...For we carry a Precious Spirit inside that will never die...No matter how many times you want us to believe your pathetic lies...
BLACK LIVES MATTER, AND THAT'S A FACT
We're the innovator of dreams, vision of success, thoughts put together, words well composed, while leaving no room for you and society to say, "I Told You So..."So get it in your head and remove the hatred from your hearts...Because Black Lives Matter, a fact you knew right from the start...
BLACK LIVES MATTER, AND THAT'S A FACT
So stop trying to kill us with a heart filled with hate...And try to love and understand us so we all could come together and learn to relate...For there's so much more to us than the color of our skin...There's actually a real person in us who in time could become your friend...
So listen and watch and bring it all into play..."For Black Lives Matter, No Matter What You Say..."